In recent years, the attention of laser TV has become more and higher. Various new types of laser TV products have emerged one after another. As a pioneer in this industry, Xiaomi Ecosystem's WEMAX ONE has been debuted to undergone a breakthrough light source technology upgrade.
Price without coupon: $3,359.99
Coupon ($1,499.99): BG02CDS
(apply it in your cart)
Design
In terms of appearance, the whole machine is stylish and simple. The size of the WEMAX ONE PRO is 41cm × 29.1cm × 8.8cm, the body is small and exquisite which doesn't take up too much indoor space.
The shape of the whole machine is sleek and simple, which can perfectly match the taste of your living room. The interface design of WEMAX ONE PRO is also very sufficient. It contains 10 expansion interfaces in the whole machine, which can connect multiple devices at the same time.
This laser TV adopts the new ALPD 3.0 laser screen display technology and overcomes the technical problems that can't be combined in the market such as color, contrast and brightness. It can still present the picture brightly and clearly in front of our eyes while reducing the size of the whole machine.
Operation
WEMAX ONE laser TV also uses the full-height DLP chip solution from Texas Instruments in the core display part. However, in the color wheel architecture, it does not adopt the dual-color wheel structure commonly used by other companies but adopts efficiency and the more reliable ALPD technology architecture is also unique in the design of optical lenses.
WEMAX ONE supports HDR10 and 3D functions. The lens projection ratio is 0.233:1. It supports motorized focus and has a wide projection range. This means, that it can project images from 80 inches to 150 inches for users and also meet the needs of large-size independent audio-visual rooms.
WEMAX ONE PRO uses the A+ grade optical machine from Guangfeng Optoelectronics. The optical machine adopts ALPD technology architecture, which makes the luminous efficiency higher and the power consumption is lower under the same brightness.
According to official measurement data, WEMAX ONE's CLO (RGB color brightness) reaches 100% of white light brightness, of which red light accounts for more than 16%, although only the nominal color brightness is 1688 lumens. During field testing and viewing, WEMAX ONE's color reproduction and detail capabilities are impressive.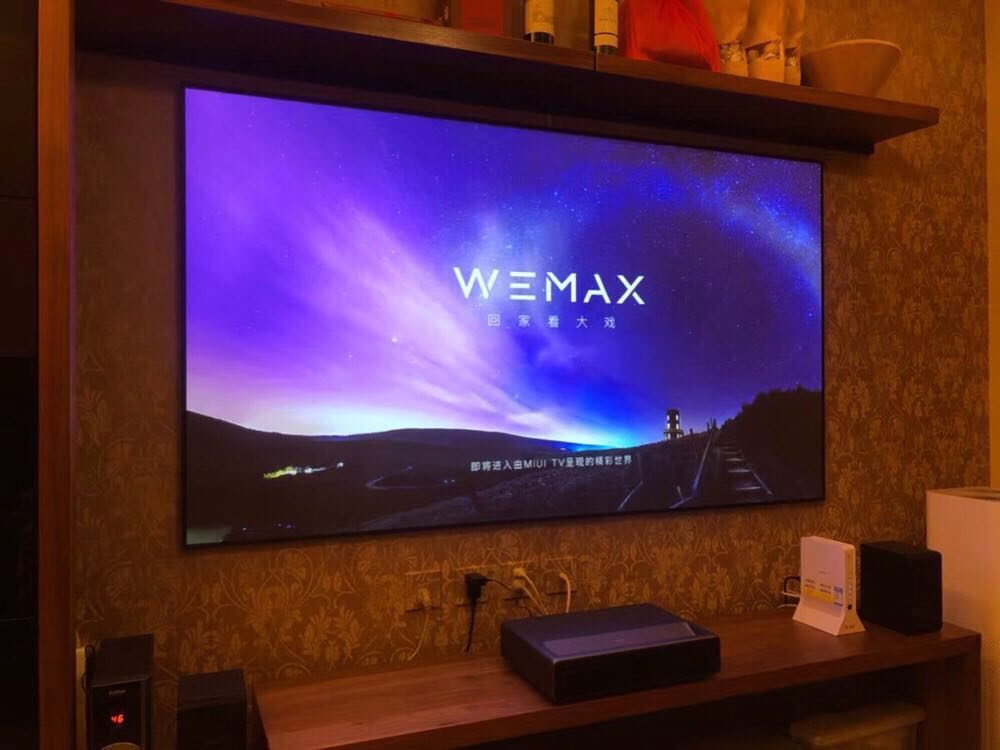 Features:
Features ALPD 3.0 laser light source technology by Appotronics
In addition to high-quality lasers, the unit also features a top-end speaker system for a real cinema experience
Can project a display up to a maximum of 150 inches
Offers a maximum of 180 nit source brightness and a 3000: 1 native contrast
The remote control is powered by 2 x AAA battery ( not included ).
Where To Buy The Xiaomi Ecosystem WEMAX ONE PRO Projector
This Xiaomi Ecosystem WEMAX ONE PRO Projector is currently on Banggood for $1,499.99 by using coupon code below.
Price without coupon: $3,359.99
Coupon ($1,499.99): BG02CDS
(apply it in your cart)