Screwdrivers are almost a must-have tool for every family. However, the traditional screwdriver can't replace the batch head, and the screw is getting very tired when it is screwed. Especially when it is necessary to disassemble a large number of screws, the feeling is really painful. So having an electric screwdriver is the best option.
Price without coupon: $52.49 
Coupon ($36.99 ): T3A6C7E0B921D000
(apply it in your cart)
Xiaomi has launched the latest 3.6 V version of the Mijia electric screwdriver. This product has a cool pistol shape and a disposable headset that makes it easier to remove the screws. The simple industrial design brings not only visual impact but also a good sense of quality.
At the end of the 3.6V electric screwdriver, there is a thread, which is not just an ornament, but a switch that regulates the steering. There is a very inconspicuous mark here, the middle is the neutral position, the left and right sides are the L and R files respectively, and the gear position is adjusted by rotating the thread to realize the forward and reverse transformation of the batch head.
At the front end of the Mijia electric screwdriver 3.6V, there is a circle of white things, in fact, three LED lights are hidden here. When the screwdriver switch is moved, the LED will light up and illuminate the part where the screw has to be screwed. In this way, even in some very dark environments, it is easy to screw the operation.
Although the Mijia electric screwdriver 3.6V looks like a pistol, the switch is very cleverly designed in the position of the trigger. Every time you screw the screw, it is like a shot, it is also full of fun, and the screw is very handsome.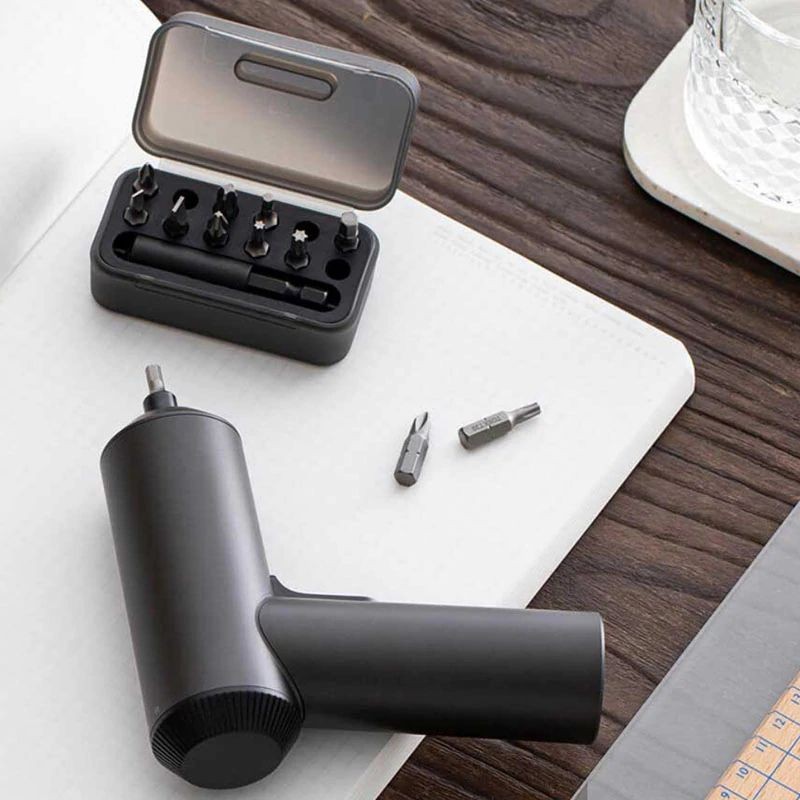 This Mijia electric screwdriver adopts charging design, the interface is Type-C port, the charging input is 5V1A, the built-in battery is 2Ah (3.6V), the rated parameter is 3.6V maximum 6A, and its speed is set to 200 r/ Minutes, this is why it is named 3.6V for the electric screwdriver.
The batch head is also one of the factors that determine the experience of using an electric screwdriver. This time, the Mijia electric screwdriver 3.6V comes with a box of 12 bits and an extension rod, including common crosses, a word and a hexagonal head. The installation of the batch head uses a common magnetic design, which can be firmly absorbed by gently putting it in. Moreover, the quality of the batch head is still very good. In the experience, I screwed the screws out of the slag, and the bits were not damaged.
Where To Buy the Xiaomi Electrical Screwdriver
This Xiaomi Electrical Screwdriver is currently available on Gearbest for $36.99 by using coupon code below
Price without coupon: $52.49
Coupon ($36.99 ): T3A6C7E0B921D000
(apply it in your cart)