Recently, CINNO officially reported the Chinese smartphone business research for January 2021 to determine who will lead the smart battle. Taking into account Huawei's situation, both the global and domestic smartphone sectors will definitely have changes. Speaking about the domestic market, brands are not talking about it, but everyone wants to grab the market share vacated by Huawei.
Chinese Smartphone Business CINNO Research
CINNO describes the Chinese smartphone business as follows: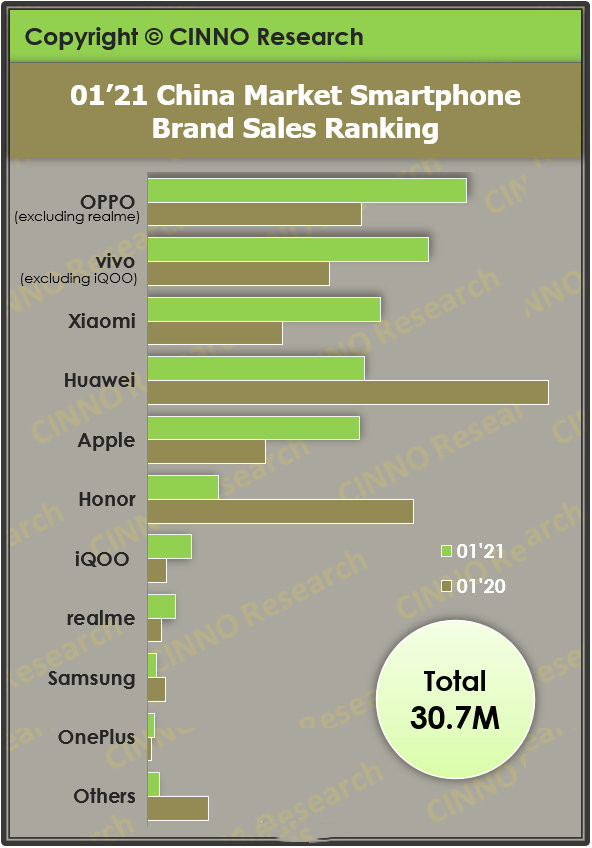 Champion: OPPO, with a market share of 22.3%;
Runner-up: Vivo, with a market share of 19.6%;
Third place: Xiaomi, with a market share of 16.3%;
Fourth place: Huawei, its market share has already fallen reaching 15.2%.
The last few brands are Apple, Honor, iQOO, Realme, Samsung, and OnePlus.
Looking at the top five domestic brands, the rankings have undergone tremendous changes. OPPO surpassed Huawei to become the domestic first. It is worth noting that the company reached such results for the first time. Vivo also occupied the second domestic position for the first time, and OnePlus entered the domestic top ten. Unexpectedly, the Meizu brand has currently fallen out of the top ten in China.
In fact, the biggest event of this ranking is that Xiaomi surpassed Huawei. Xiaomi has not been in the top three in China since 2016. So, this is the first time that Xiaomi has surpassed Huawei in six years. It goes without saying that this story has a certain amount of water in it. The thing is not that Xiaomi is selling too well, but that Huawei has had sales problems. Hence, the part of the market vacated by Huawei is basically divided by OPPO, Vivo, and Xiaomi.
Surprisingly, the Honor brand can still rank sixth in the domestic market after leaving Huawei. Thus, Honor's current performance is not weak. Honor left Huawei for a very short time, and many users are still not clear about it. Besides, the Honor V40 still has the blood of Huawei in it, and sales are still good.
So, the Chinese smartphone business continues to be interesting and fierce. At the bottom of the top ten list, iQOO and Realme are also struggling for higher rankings.