On the morning of January 7, Lenovo presented the ThinkBook Plus laptop with an electronic ink screen. Through the electronic ink screen, you can use the device even when it is closed. Lenovo considers that people are very busy between meetings. Thus this laptop allows you to use it as a notepad.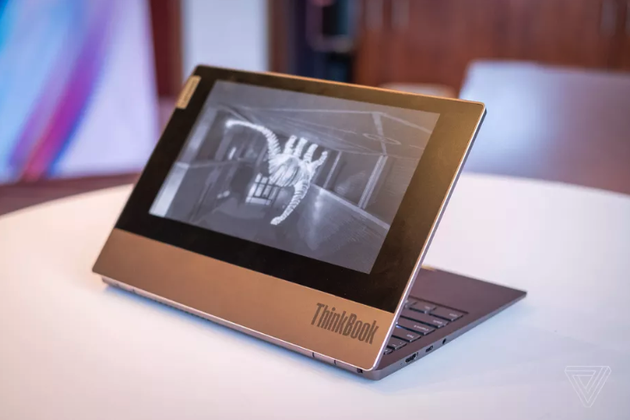 In addition to the regular design, the ThinkBook Plus is also equipped with a 10.8-inch electronic ink screen. This e-ink display shows information such as calendar time, weather, etc. This is more convenient rather than the same information on smartphones. It is important to mention that the ThinkBook Plus hides sensitive data information when opened. So nobody can disclose your confidential information.
Also read: Galaxy Book Flex Alpha Laptop With 2-in-1 Design Is Launched
Although the refresh rate of this electronic ink screen is very slow, the response rate of the screen is perfect. Lenovo points out that a small part of the screen can refresh much faster than the entire screen at a time. In addition, you can use the external screen of the ThinkBook Plus as an e-reader because of the Windows Kindle application. Although 10.8 inches is not an ideal reading size, it is better than reading on a notebook screen.
There are no complete specifications for the ThinkBook Plus. The laptop sports a 13.3-inch main screen with a 1080P resolution. Also, it supports a fingerprint recognition module, case which is made of aluminum alloy, and a simple keyboard.
 The ThinkBook Plus will be available in March 2020 with a starting price of $1,199 which equals 8363 yuan. This is more expensive than Lenovo's other ThinkBook products. But don't forget that it has a unique electronic ink screen.