On February 4, the latest report released by IDC shows that global smartphone shipments in the fourth quarter of 2019 fell 1.1% year-on-year. Among them, Xiaomi's smartphone shipments have grown significantly against the trend. The increase was 31.1%, which is the largest increase in the TOP 5.
IDC data show that in the fourth quarter of 2019, Apple ranked first with a 20% market share. The yearly increase was 7.9%. Samsung and Huawei fell 1.2% and 7.1%, respectively. At the same time, Xiaomi's smartphone shipments have the most growth among the top five, with a yearly increase of 31.1%, ranking fourth in the world with a market share of 8.9%. OPPO was fifth, with a share of 8.3% and a yearly increase of 4.2%. Lei Jun also reposted, "In 2020, Xiaomi will work harder." It is important to mention that Xiaomi Group's stock price was $12.54, an increase of 4.33%, with a total market value of $301.2 billion.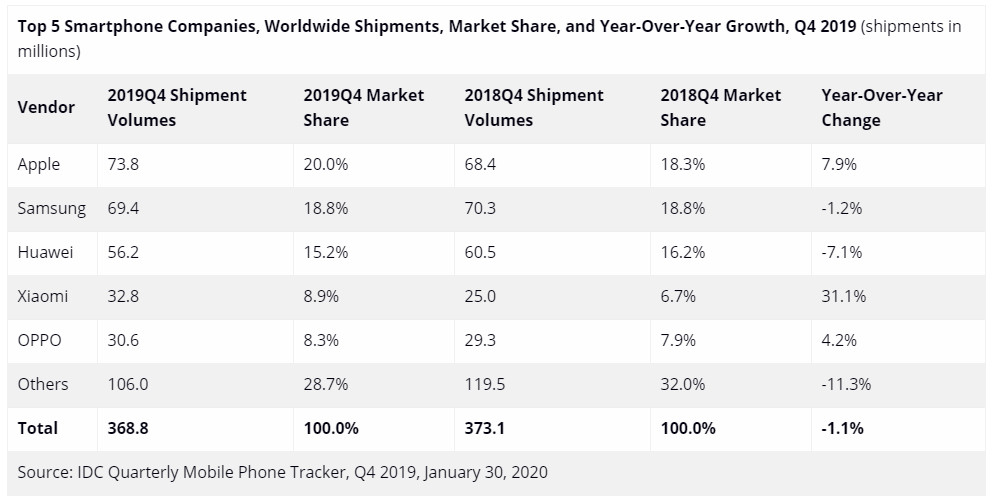 "2019 is already the third year of declining smartphone shipments. Even the launch of innovative products such as 5G equipment and folding screen phones cannot help" said Anthony Scarsella, research manager of IDC.
Also read: Xiaomi POCO X2 With 4500mah Battery Will Be Released Tomorrow
Although the global market fell again in 2019, some leading companies such as Apple, Xiaomi, and OPPO still performed well in the fourth quarter. It was mainly because they launched new models and shifted market focus overseas. For example, Xiaomi smartphone shipments performed well even in India.
 Looking into the future, 5G smartphones with affordable prices will become an important weapon to reverse the three consecutive years of decline in 2020.